GAMING AND RESPONSIBILITY
We act responsibly
We see gambling as being more than just lotto balls, draws, gambling tables, cards, dice and slot machines. The companies within the Casinos Austria and Austrian Lotteries Group are committed to responsible gaming. They are mindful of the well-being of their customers and guests, making sure that gambling remains a positive and enjoyable experience.
We encourage responsible conduct and work on an ongoing basis to develop and implement measures to minimise and, ideally, prevent problem gambling behaviour. In so doing, we align with the very best international standards. It's in our interests for as many people as possible to benefit from our actions. Accordingly, the management of our companies is oriented towards all our stakeholders.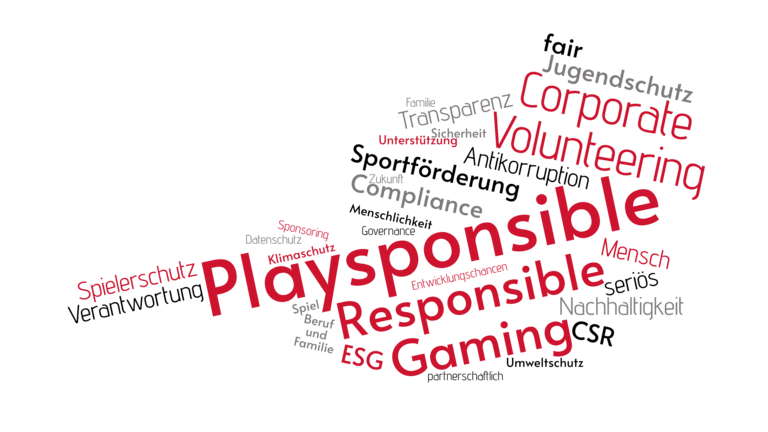 The focus areas of our business activities
Our company: Everything from a single source – we offer the very best in games, sports betting and entertainment.
Range of games: Our wide range offers enjoyment, relaxation and the chance of a win. We are actively committed to responsible gaming measures to encourage safe, responsible gambling behaviour and proactively combat potential risks.
People in focus: People are at the heart of everything we do. We offer our customers and employees a safe and pleasant gambling and working environment. We promote equal opportunities and respect for others.
Environmental responsibility: We are aware of our responsibility to the environment and are actively committed to environmental protection measures. We strive to make our business processes more sustainable.
Governance and transparency: In addition to communicating clearly and openly, we abide by high standards in terms of corporate governance and compliance. Our stakeholders can rely on responsible, sustainable governance.
Our commitment to responsible gaming
We set great store by delivering a safe, responsible range of games that aligns with our social and socio-political values. Our business activities are shaped by the guiding principle of responsible gaming in every respect:
Measures to promote responsible gaming
We draw on the latest scientific findings to develop, evaluate and implement responsible gaming measures. Our employees have outstanding expertise in the area of problem gambling and are aware of counselling and treatment services that can help affected customers.
Training and memberships
We provide our employees and retail partners with regular training on responsible gaming. We are a member of international organisations and professional associations such as the European Casino Association, European Lotteries and the World Lottery Association. We work with them to promote and refine our principles..
Institutional support and distribution of information
We have been supporting various institutions focused on providing advice and treatment to those affected by pathological gambling for many years. We provide information to players and guests in an easily accessible manner. We do this to encourage a responsible approach to gambling products.