A business steeped in values
Gambling is at the heart of our business. Our vast range sees us cover every segment of the market. Our visitors, players and customers take centre stage and their safety and well-being are our top priority. We respond as quickly as possible to changing circumstances and customer requests. Alongside our integrity and absolute professionalism, our company culture is characterised by our decades of experience, capacity for innovation and ability to make shared visions a reality.
Social responsibility
The Group's activities are also characterised by social responsibility. We set great store by supporting both charitable and climate-relevant projects.
Our Group is made up of various business units. Whether casinos, lotteries, online gambling, video lottery terminals, international business or sports betting, we share a foundation upon which we build and carry out our work successfully: our values.
Our Group's values
Professional, respectful, cosmopolitan, proud and responsible – these are the five values that reflect our Group and our understanding of governance.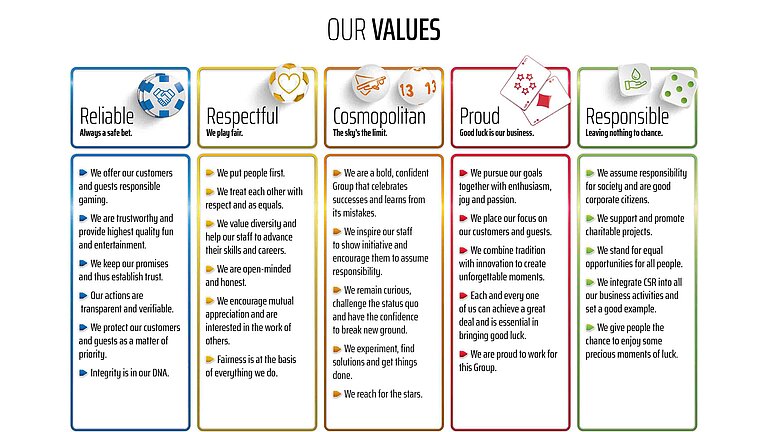 Five values – five pillars that underpin the business of the Casinos and Lotteries Group. Every value is linked to a slogan and the guiding principles under each value explain what we mean by it.